Are you looking to transform your monolids into double eyelids like your favourite celebrity?
There's more than one way of getting double eyelids, including wearing eyelid tapes, using eyelid glue to create a temporary fold, or even double eyelid stitching. But all these are temporary solutions, how can we get permanent double eyelids?
Double eyelid surgery certainly comes to mind, but how much do we know about it?
So together with Beverly Wilshire Medical Centre, I have compiled your questions and got highly qualified doctors to answer them for you - how to get permanent double eyelids?
You asked, we have the answers.
All information and answers are provided by certified and verified doctors from Beverly Wilshire Medical Centre.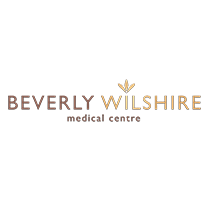 Beverly Wilshire Medical Centre (Kuala Lumpur)
WE ARE AN INTEGRATED BEAUTY MEDICAL CENTRE THAT SETS THE STANDARDS IN COSMETIC SURGERY, AESTHETIC MEDICINE (NON-SURGICAL AND LASER TREATMENTS) AND HEALTHY AGING IN THE REGION.
Licensed by the Ministry of Health Malaysia, we offer an extensive menu of cosmetic procedures, aesthetic treatments, and health services to enable you to attain your desired perfection – in beauty, health, and wellness. With the expertise of a team of highly skilled specialists, supported by the industry's leading technologies and world-class facilities, you can be assured of professional guidance and customized treatments towards the desired outcome. Whether you seek the ideal skin, face, body or wellbeing, you need look no further.
Centre of Excellence for Cosmetic Surgery, Aesthetic Medicine and Healthy Aging
Backed by registered and board-certified plastic surgeons
All cosmetic and aesthetic procedures are administered professionally by licensed doctors
Registered with the Malaysian Healthcare Travel Council (MHTC) to promote medical tourism
+ Read More
What is double eyelid surgery? What are the different types of eyelid surgery?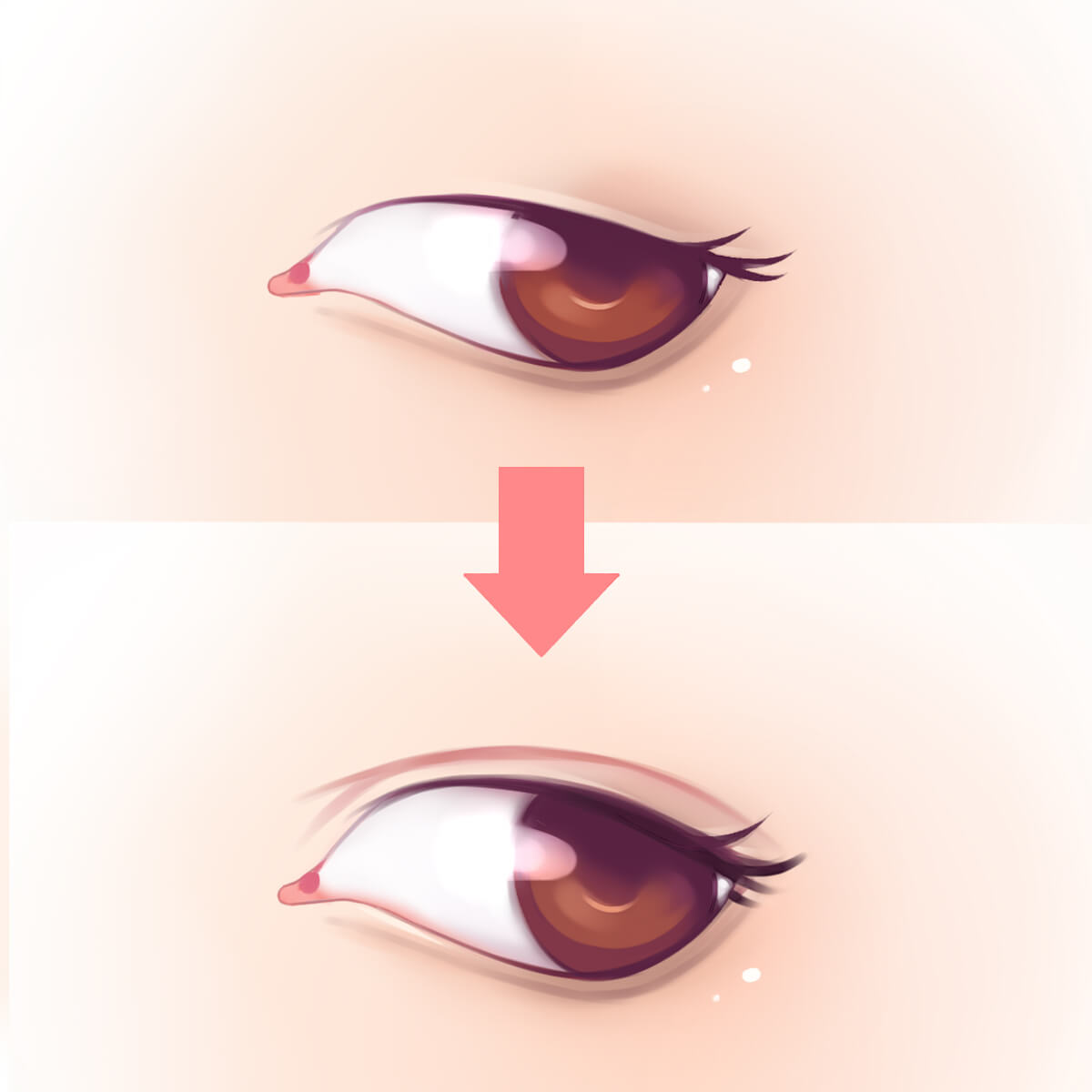 Double eyelid surgery, also known as blepharoplasty, is the surgical procedure to create a double eyelid appearance from monolids or single eyelids.
There is upper blepharoplasty and lower blepharoplasty, and there is also a difference between blepharoplasty for Asians and blepharoplasty for Caucasians.
Although both procedures involve making changes to the eyelid, blepharoplasty for Asians mostly focuses on the upper eyelid.
This procedure removes excess skin and sometimes, excess fat to create a crease in the upper lid, hence changing monolids to double eyelids.
One of the added advantages of having this procedure done is that it gives patients a fresher look. With the addition of creases on the upper eyelid, the eyes look brighter and more alert.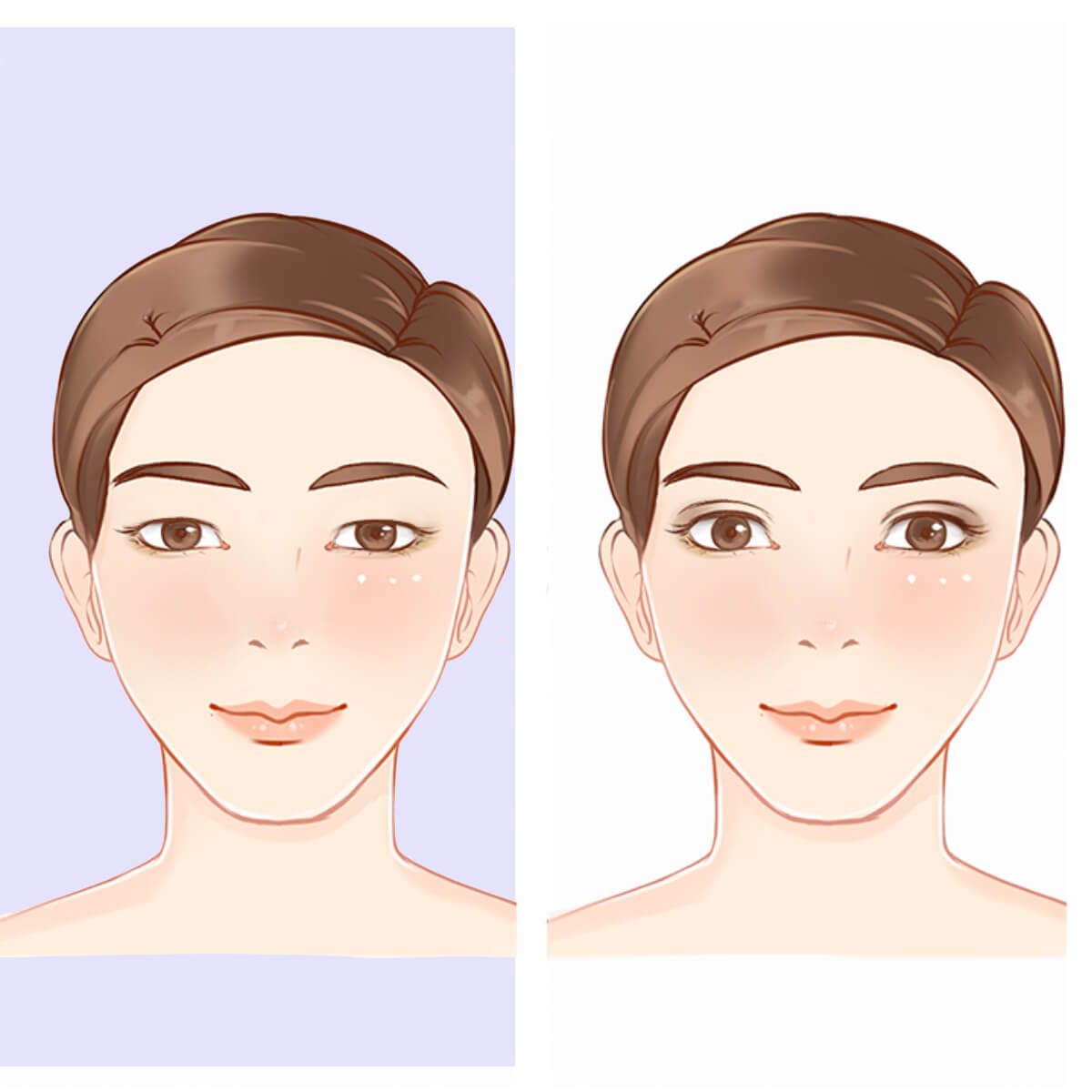 On the other hand, blepharoplasty for Caucasians focuses on droopy eyelids, this may involve the removal of excess skin, muscle, and/or fat to fix the droopiness.
Lower blepharoplasty is typically done to address eye bags and/or for improving the appearance of wrinkles around the eyes.
How is double eyelid surgery done?
Let's take a look at each type individually:
Double Eyelid Surgery for Upper Eyelid
Benefits:
Reduce sagginess and puffiness
Remove excess skin
Look less tired or sad
Procedure:
The surgeon makes a small incision in the lowest natural crease of your eyelid
Some of the excess skin and maybe a small strip of muscle will be cut off carefully
The surgeon will make another incision above the eye and remove or reposition fat to reduce puffiness
These incisions are then closed with stitches, surgical tape, or skin adhesive
You now have double eyelids!
Lower Eyelid Surgery Option 1: Outside Cut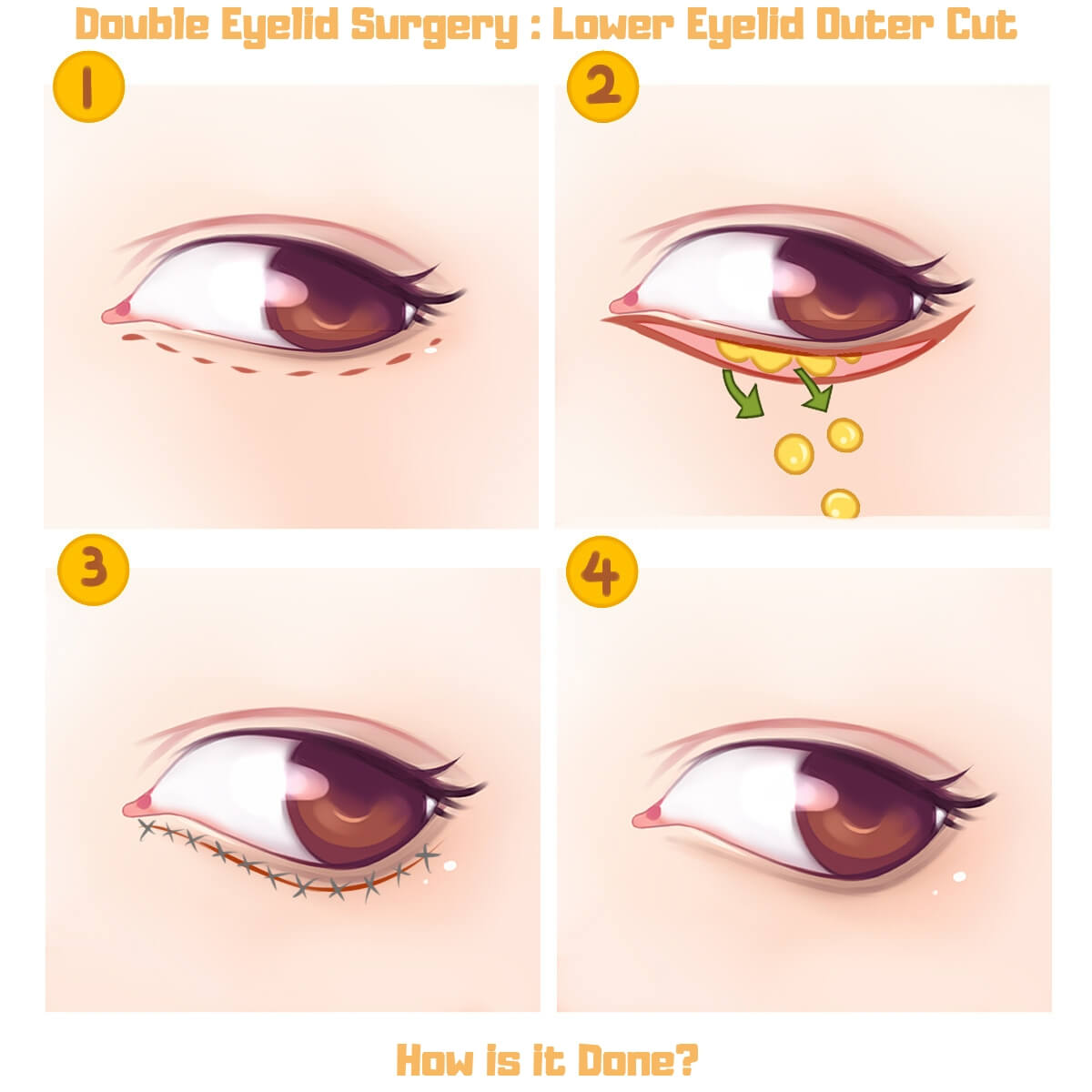 Benefits:
Reduce puffiness and eye bags
Remove excess skin and fat
Looks more youthful
Procedure:
The surgeon makes a small incision just below the eyelash line
After peeling back the skin, the surgeon makes an incision in the muscle. A small amount of skin may also be removed to reduce sagging
The surgeon removes or repositions excess fats for a smoother contour
The incision is closed up with small stitches
Lower Eyelid Surgery Option 2: Inside Cut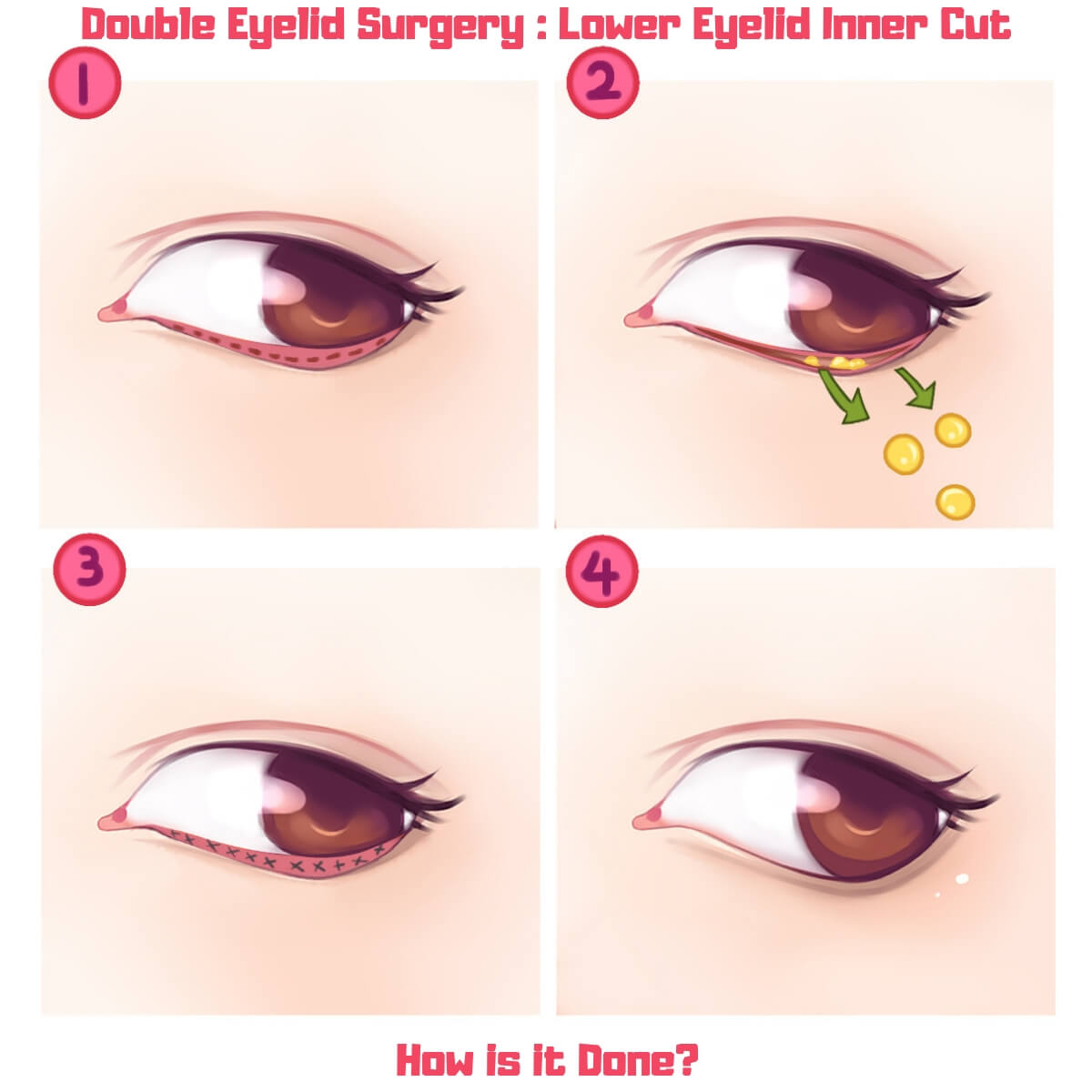 Benefits:
Reduce puffiness and eye bags
Remove excess skin and fat
Looks more youthful
Procedure:
The surgeon makes a small incision just below the eyelash line
The eyelid is peeled back so that the surgeon can make an incision on the muscle inside the eyelid
The surgeon removes or repositions the excess fats. No skin or muscle is removed.
The incision is closed with dissolvable stitches or skin adhesives
So as you'd expect, these procedures aren't so simple after all. So make sure you only get your double eyelid surgery done by a qualified and experienced surgeon!
Getting a double eyelid surgery from an unverified clinic doesn't only put your skin at risk, but your eyes as well. To know more about double eyelid surgery at Beverly Wilshire Medical Centre, just send an enquiry here and you will receive a reply within 3 working days!
Is double eyelid surgery painful?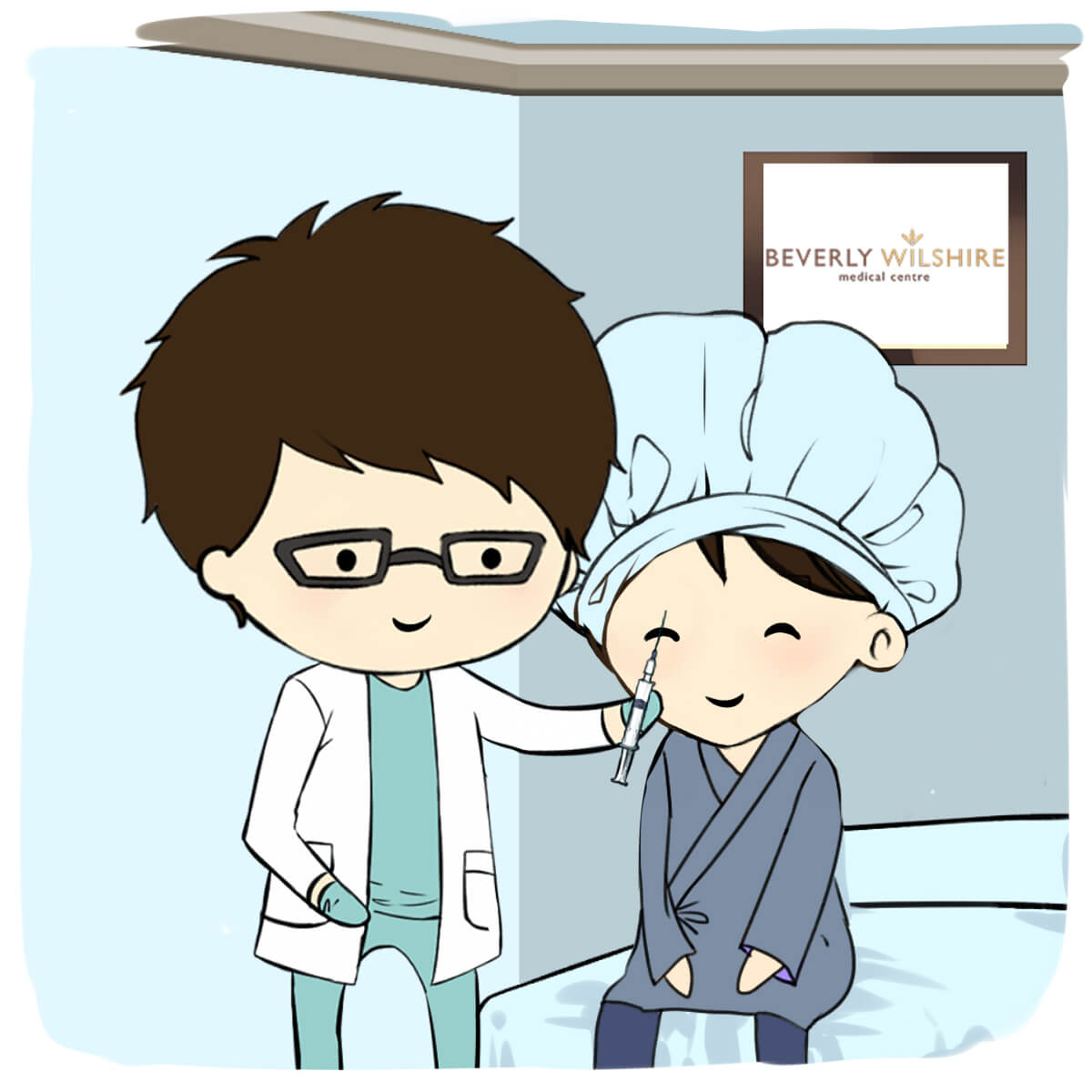 Double eyelid surgery is a surgical procedure, so some pain will linger on after the procedure on the wound.
However, during the procedure and immediately after the surgery the pain is minimal, analgesic is usually prescribed and the procedure is also done under anaesthesia.
Taking good care of your double eyelids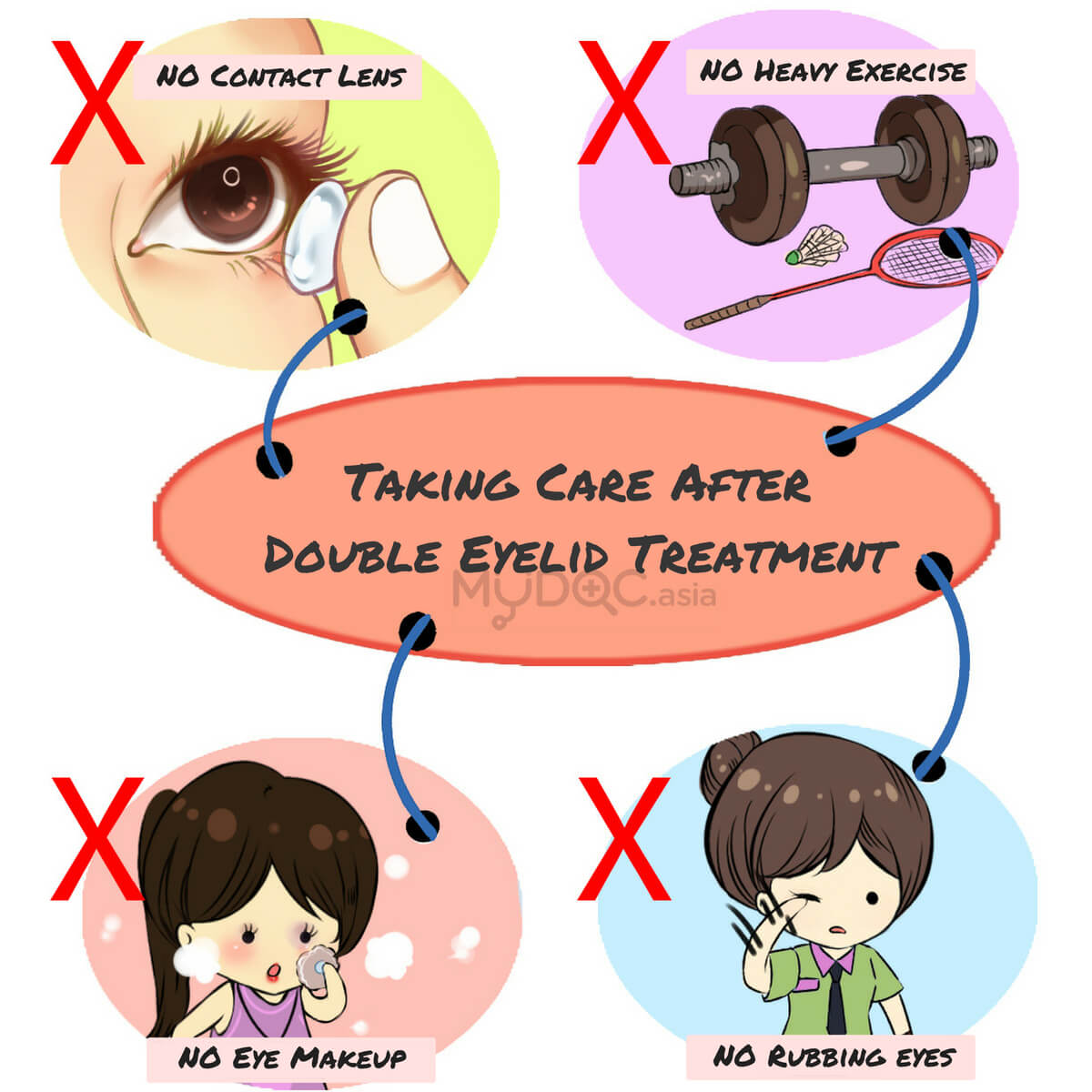 After getting you newly treated double eyelids, it is important that you take care of them properly, especially in double eyelid surgery as the treatment area can be very vulnerable.
Here are some advice from the doctor:
Refrain from taking a shower within the first 24 hours. This will allow the wound to seal up and reduce the risk of infection.
Avoid contact lenses and putting on makeup on the upper eyelid for 2 weeks after the procedure.
Heavy exercises such as weightlifting is not recommended for several weeks after the procedure, as elevating your blood pressure can disturb the healing process.
No rubbing and no pressing on your eyelids, especially on the treatment area.
What else can eyelid surgery treat?
Other than gaining double eyelids through double eyelid surgery (blepharoplasty), there are also other similar types of eyelid surgery, but with different procedures, for different conditions!
These include:
Epicanthoplasty (inner eye corner)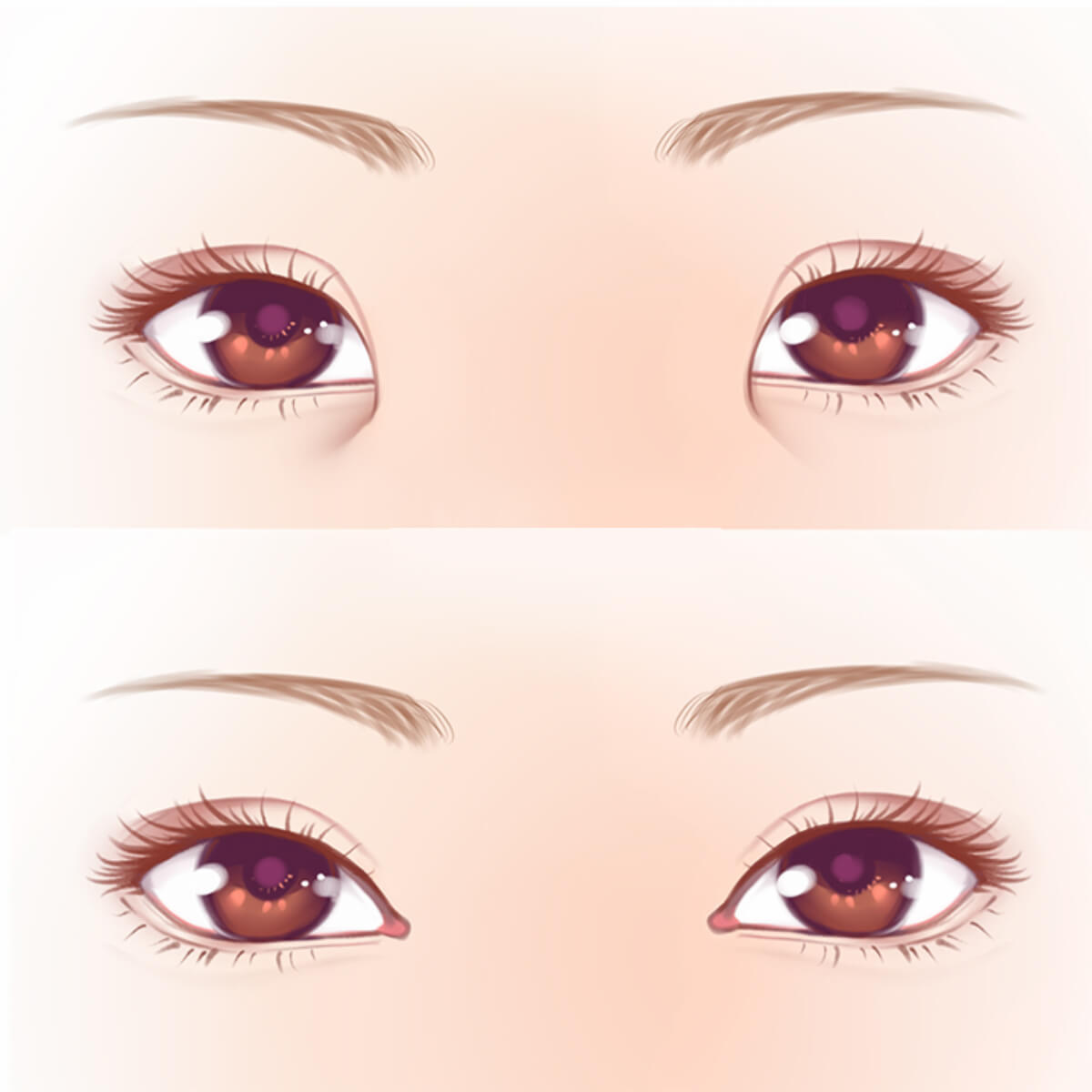 Epicanthoplasty can elongate the eyes horizontally to make them look bigger and wider. This releases and corrects an epicanthal or Mongolian fold, which is located on the inner corner of the eyes.
This procedure is often recommended in conjunction with double eyelid surgery for optimal results.
Lateral canthoplasty (outer eye corner)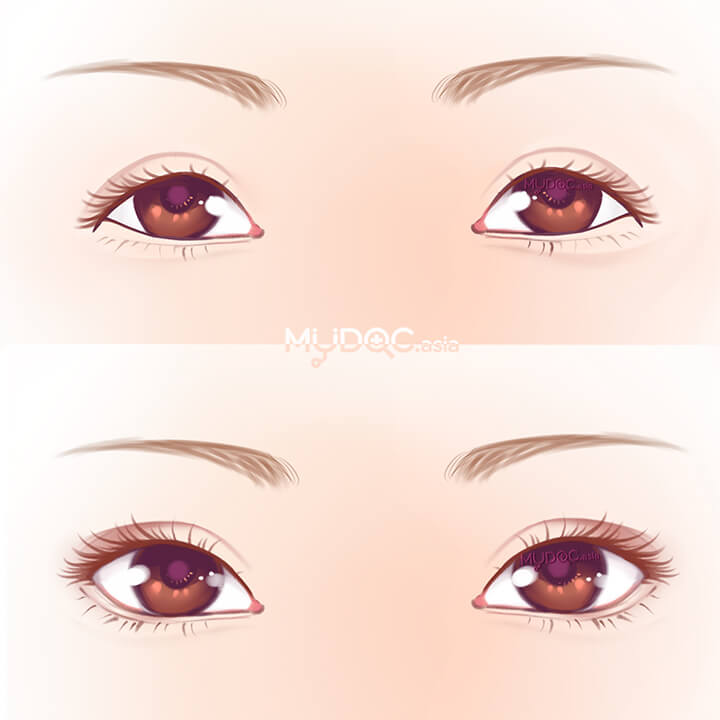 Lateral canthoplasty helps to correct downward sloped outer eye corners to produce more alert and bigger looking eyes.
Ptosis correction (drooping eyelids)
Although drooping eyelids can be quite common, there can be certain cases were the drooping eyelids are more severe that the patient's vision gets affected.
Patients with drooping eyelids are not encouraged to go for double eyelid surgery, as the result from the treatment would only further highly the drooping shape of the eye.
The advisable step would be to undergo a ptosis correction to rectify the droopiness first before considering other cosmetic eye procedures like double eyelid surgery.
Is double eyelid surgery safe? Any risks and side effects?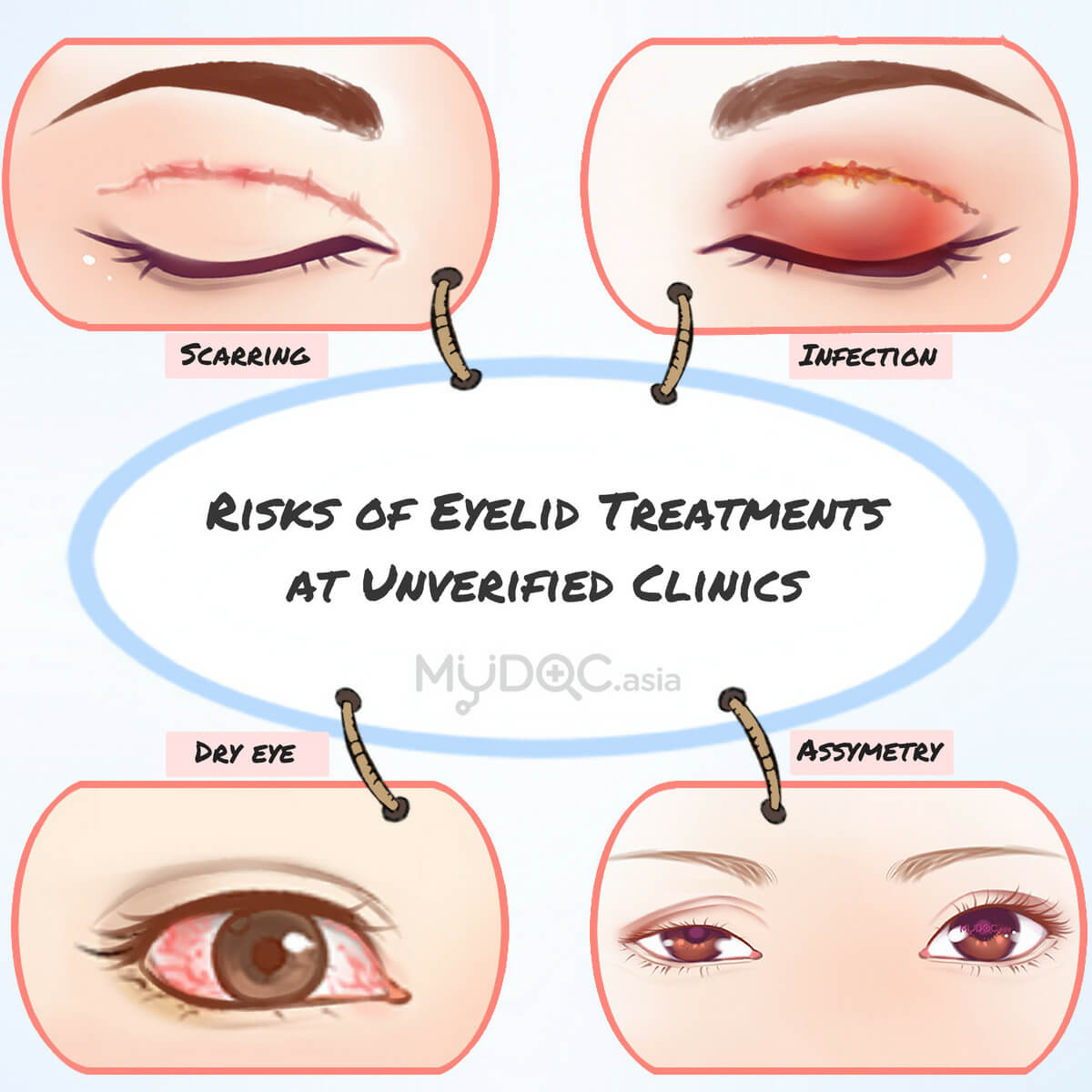 This is very, very important: only get your double eyelid treatment (or any aesthetic treatment) done at a verified clinic by a certified doctor!
Not only do we have our face on the line, we are also exposing our eyes to risks of treatment misconduct if we find ourselves getting procedures done by non-professionals or inexperienced handlers.
Some possible side effects and risks after a double eyelid treatment are:
Infection at the exposed treatment area
Dry eye due to excessive or untrained cutting of skin
Eyelid asymmetry due to poor procedure performance
Scarring due to excessive or untrained cutting of skin
Our choice of cosmetic surgeon or doctor will affect the result of the procedure we do.
Therefore, always consult a reputable cosmetic surgeon or aesthetic specialist doctor who has performed plenty of double eyelid treatments to ensure low risks and that you get value for the cost spent on the treatment.
To enquire about a double eyelid treatment at Beverly Wilshire Medical Centre, send an enquiry here!
Can you get double eyelid surgery?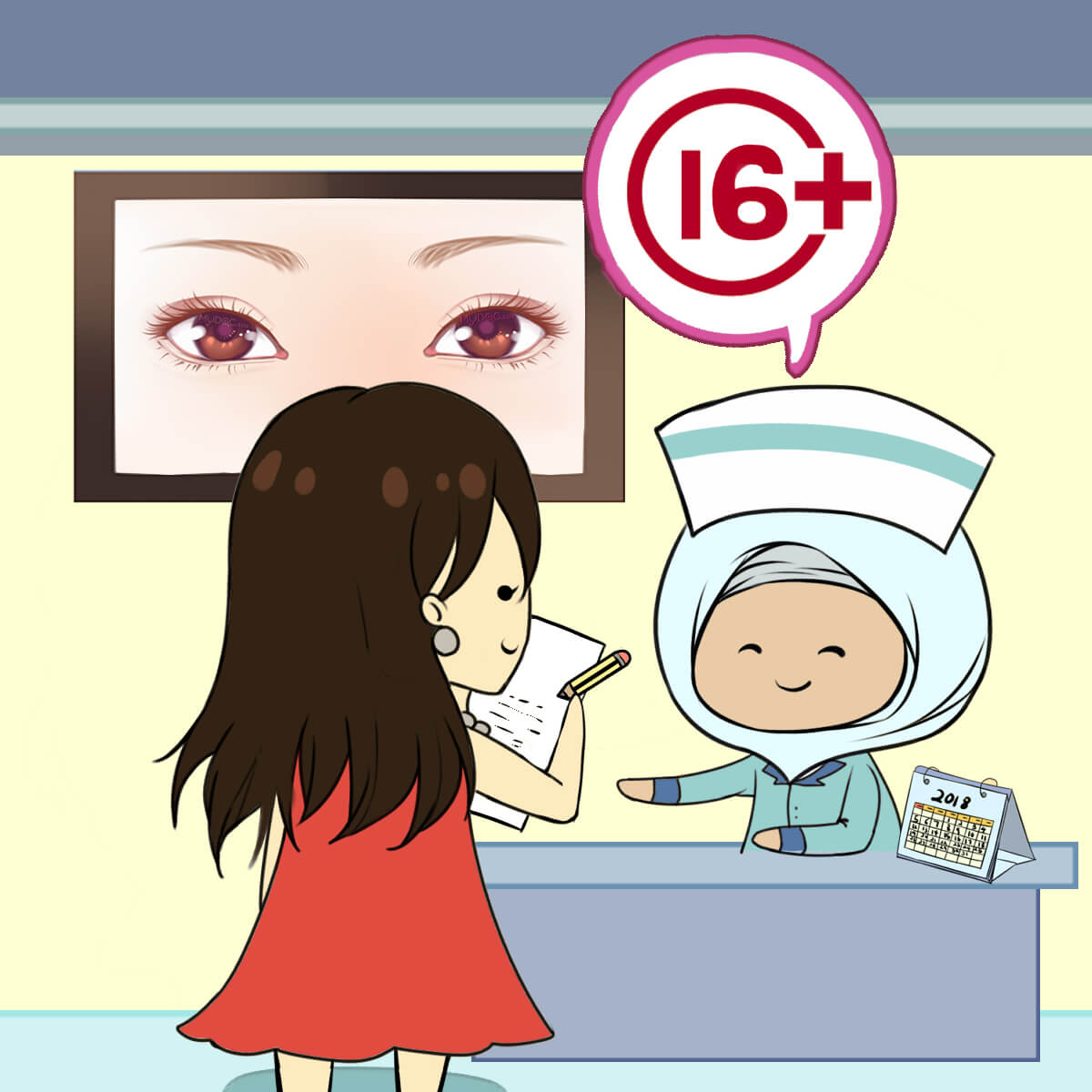 As long as there is an appropriate anatomical condition to correct, you can have a double eyelid suturing or treatment from 16 years old onwards.
The recovery process following the treatment progresses more slowly with age, so older adults may expect a slower recovery time after the procedure. But the results of the procedure are usually unaffected.
And a last reminder from the doctor:
Moderation is everything. Even though double eyelid surgery is getting increasingly common these days, a little change on our eyelids can make a drastic difference to our whole face.

Caucasian-like eyelids can make Asians look quite unnatural. So the whole idea is not about looking more "Western", but about getting better-looking eyes in your own cultural setting.
Okay, where do I go?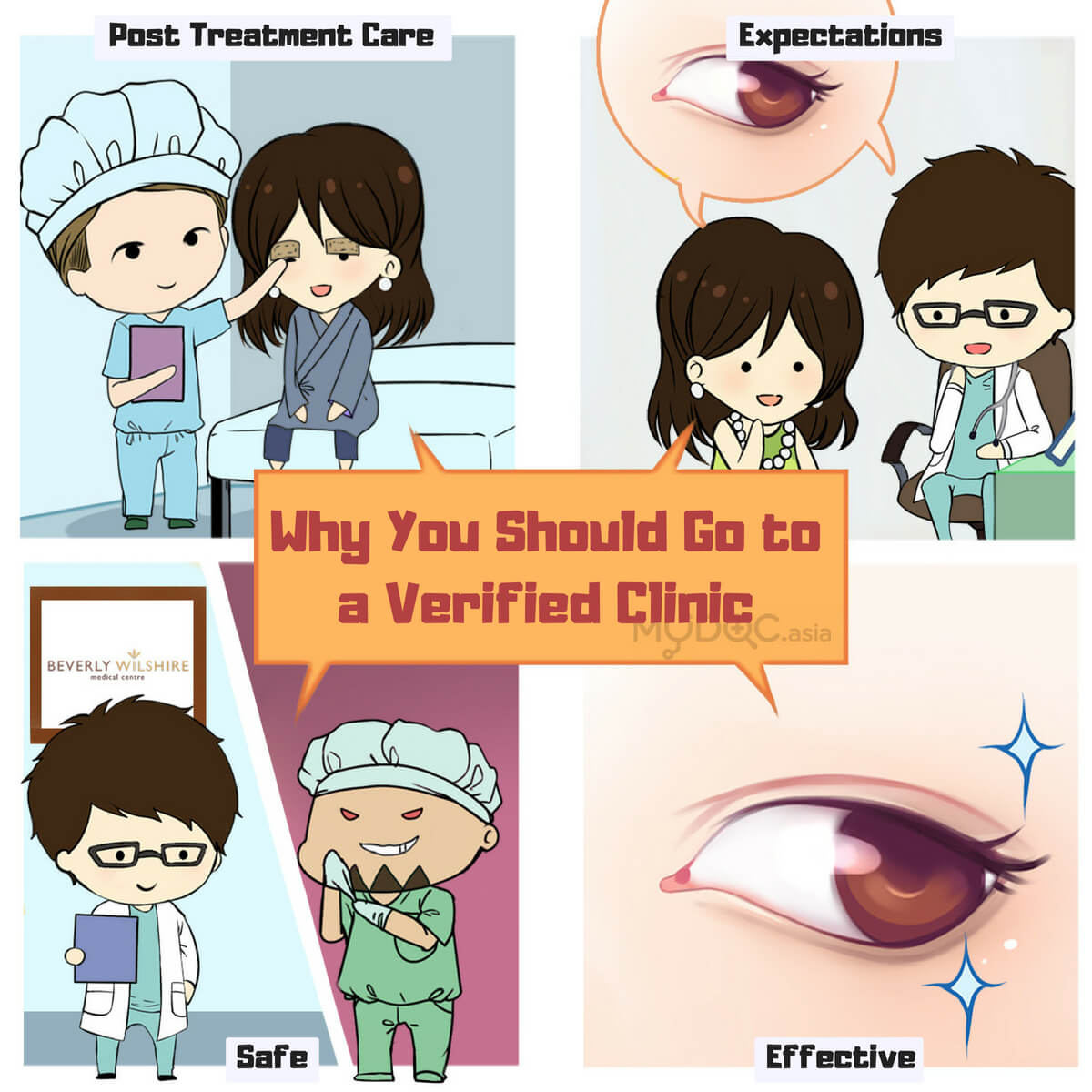 No matter if it's a medical treatment, a surgical procedure, or an aesthetic treatment, your safety and wellbeing should always be put at the topmost priority.
Avoid any dodgy or suspicious looking too-good-to-be-true promotions and offers of treatments by unverified centres or clinics.
Getting a procedure done on your skin, especially your face, is no small matter. So make sure you check if the specialist doctor is certified and verified, and is experienced in the treatment that you are looking for.
At ERUFU Care, we list only clinics and doctors that are certified and verified, with genuine patient reviews on the clinic services so that you can make an informed choice.
This also includes Beverly Wilshire Medical Centre, a medical aesthetic centre that focuses on treatment quality, so that you can be rest assured of the premium services you get during your treatment.
So if you're thinking of getting a double eyelid treatment, send an enquiry here and get a reply within 3 working days!
Or if you're looking for a clinic in places other than Kuala Lumpur, take a look at other clinics near you that provides double eyelid treatment here.
What if I don't want to go under the knife?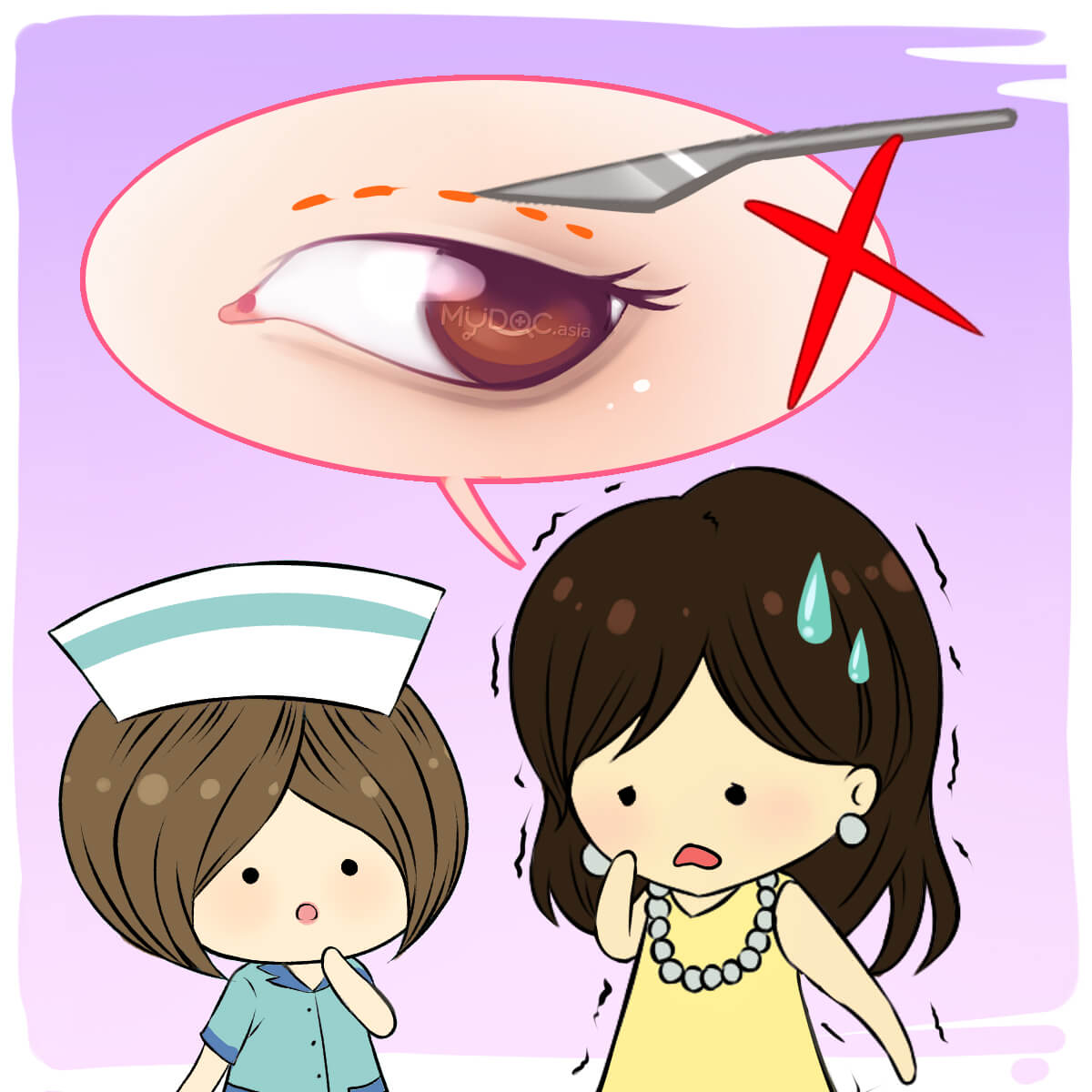 In that case, you would want to consider double eyelid suturing, a non-surgical option for getting double eyelids - read more about it here: How to Get Double Eyelids Without Surgery!