"Oh my, I can't be suffering from hair loss so early, can I?" asked Romeo as he touched his forehead while looking into the mirror this morning.
"Are you sure that's not just your high forehead, Romeo? Also your hairline may just be maturing, instead of balding!"
"Wait… What?"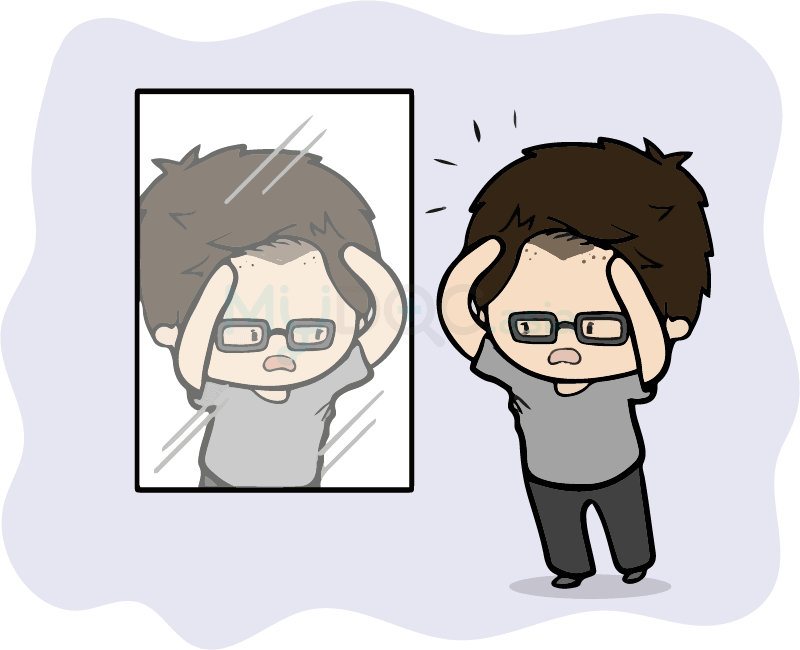 It can be pretty confusing for men, especially during young adulthood, when they are most concerned about suffering from hair loss. Are you balding or do you just have a high forehead? Is your hairline maturing or is it receding?
Hair loss is more likely to affect males, elder people, and highly stressed individual. 50% of men have been found to have mild hair loss, and 75% with moderate to severe hair loss.
Hair loss in men is more of an expectancy compared to that for women. By the age of 80 years, 80% of men are affected by hair loss. Besides, 25% of men start showing hair loss signs as early as in their 20s.
There are several different causes that can potentially lead to hair loss, from genetic inheritance to lifestyle and diseases. Read more here to find out Am I Getting Old or Is Something Else Causing My Hair Loss?
So, do you have hair loss problems or just a high forehead? These 5 points will help you figure that out.
1. The Shape of Your Hairline

When I pulled up Romeo's fringe, he had a V-shape hairline. What does this mean?
For hair loss, the shape of the receding hairline often occurs in an M-shape. Male hair loss, also known as male pattern baldness, or alopecia, starts with a receding hairline, and further stretches into the crown of the head with time. This creates the M-shape baldness you usually see in older men.
If your hairline is straight or look like a V-shape, it's probably not a sign of hair loss or balding, but rather a high hairline and a broad forehead.
2. Maturing Hairline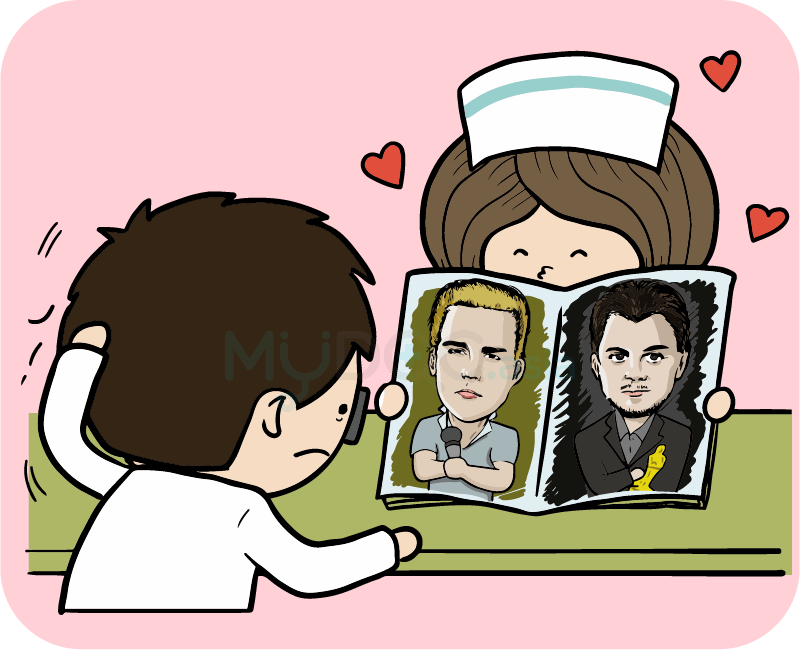 For men, as they age, their hairline grows slightly higher than before. Unlike their hairline from the younger days (known as the juvenile hairline) which is slightly rounded especially along the edges, a mature hairline moves slightly higher, creating a what people often considered a 'manly' look.
The maturing of hairline usually occurs to men around the age of 17 to 29. This is, however, different for everyone. Some may experience it earlier or some later. There are also some who don't experience it at all, with a juvenile hairline even at old age!
The rate at which men experience a shift in the maturity of hairline can be a sign of potential balding problems in the future, but it does not always signify hair loss problems. So if your hairline has moved from Justin Bieber to Leonardo DiCaprio, you don't have to panic just yet!
Romeo squinted at me when I suggested that he can be my DiCaprio though, so not romantic!
3. The Norwood Scale
To classify and better illustrate male pattern baldness, the Norwood Scale is often used. This scale can be used as a guide to identify which stage of male pattern baldness you are in, or if you have baldness at all.
If you have male pattern baldness, the shape and density of your hair changes over time as you age. These stages in the Norwood Scale can act as a guide as to at which stage you are currently at. Every men experience different stages on the scale at different ages. So don't worry if your pal and you are at different stages of hair loss despite being the same age! However, the earlier you experience hair loss and go up the stages of the scale, the more severe your hair loss problem may turn out to be.
4. Hair Thinning
Another way to identify whether or not you have hair loss problems is the weight of your hair. If you happen to notice thin hair on your forehead, you may want to also check the sides of your hairline to see of there are any other signs of hair loss mentioned above.
On the other hand, if you have a high hairline, but the thickness of your hair remains unchanged, you may just be experiencing a maturation of hairline rather than hair loss.
5. Identifying Your Hair Loss
Here are three simple methods to identify if you have hair loss.
Method 1: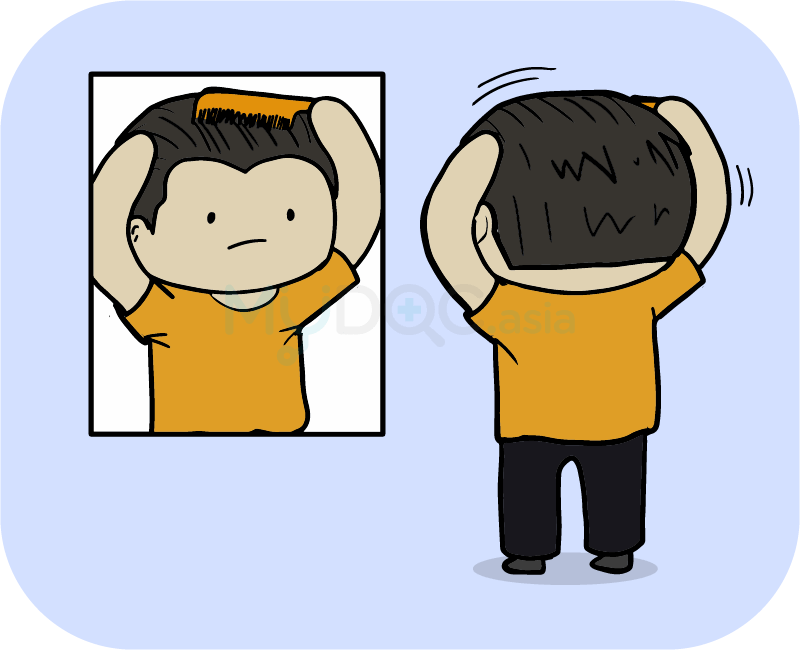 Step 1: Place a comb (preferably a flat tooth one) on your fringe or your frontal hairline.
Step 2: Hold up your fringe to reveal your full frontal hairline clearly.
Step 3: Check the shape of your hairline: Is it straight? A V-shape? An M-shape? You can also check your hair thickness on the front (held up by the comb) to see if any hair thinning is happening.
Method 2: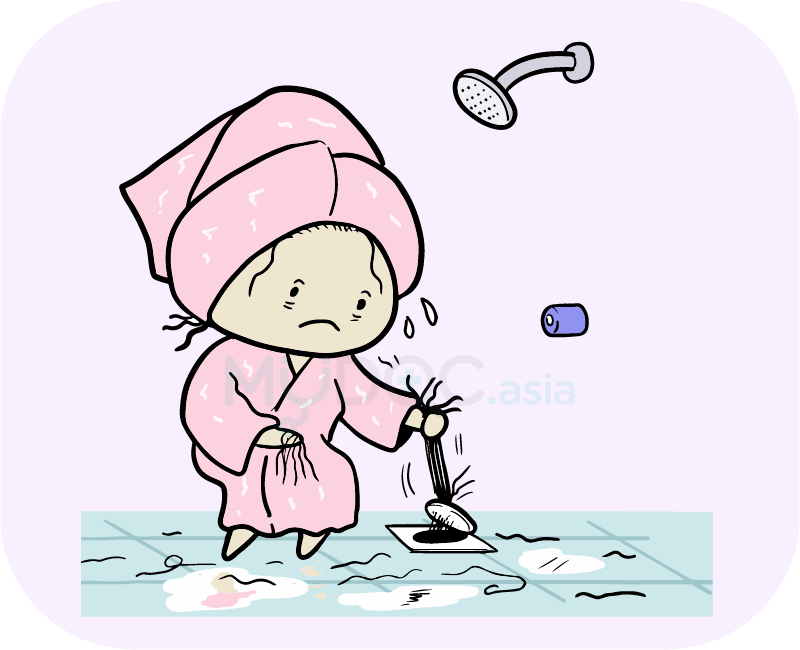 Step 1: Pay attention to your hair fall during showers.
Step 2: Take notice of the amount of hair fall. Check if you notice more hair than usual falling after you wash your hair.
Method 3:
Step 1: Place a comb (preferably a flat tooth one) at the middle of your hairline on your head
Step 2: Part your hair centrally (central parting)
Step 3: Check if the gap between your hairline has widened. You can do this for a few days to compare.
Know your hair
To take care of your hair, you have got to know your hair. Are you sensitive to a certain type of shampoo? Did you eat something that has caused an allergic reaction on your scalp? Do you have stressful concerns that are leading to potential hair loss problems?
Even if you face any of the problems above, don't stress it out - stress or traumas can also cause hair loss! To find out more on the causes of hair loss, read more here to see Am I Getting Old or Is Something Else Causing My Hair Loss?
So, are you experiencing hair loss? Here at ERUFU Care, we believe in effective communication between patients and healthcare professionals. So if you'd love a professional opinion or a consultation, find a clinic or doctor that provides Hair Loss Treatments near you today here!
Do you have a high forehead? I've heard people say that a high forehead shows that a person is rich! Myth? Fact? What do you think? Write to me in the comments below!
---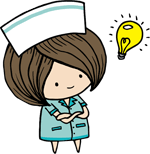 Juliet's Reminder: Did you know that losing hair is a normal everyday occurrence? On average, men lose about 50-150 strands of hair day, while women can lose up to 250 strands of hair when they shampoo! So don't worry if you see strands of hair in your bathroom, but make sure you're taking good care of your scalp health to maintain your hair growth!