Have you ever thought of getting a V-shaped face? These days, getting our face reshaped is no longer just a pipedream.
However, there's also the risk of not knowing enough about the procedure to get a V-shaped face, and exposing ourselves to risks of bad or dangerous experiences.
V-shaped face is quickly getting over-advertised in the world of beauty, and though it should be an aesthetic procedure strictly done only by certified medical doctors at verified aesthetic clinics, advertisements of V-shaped face procedures provided by beauty centres and dodgy clinics can be found everywhere.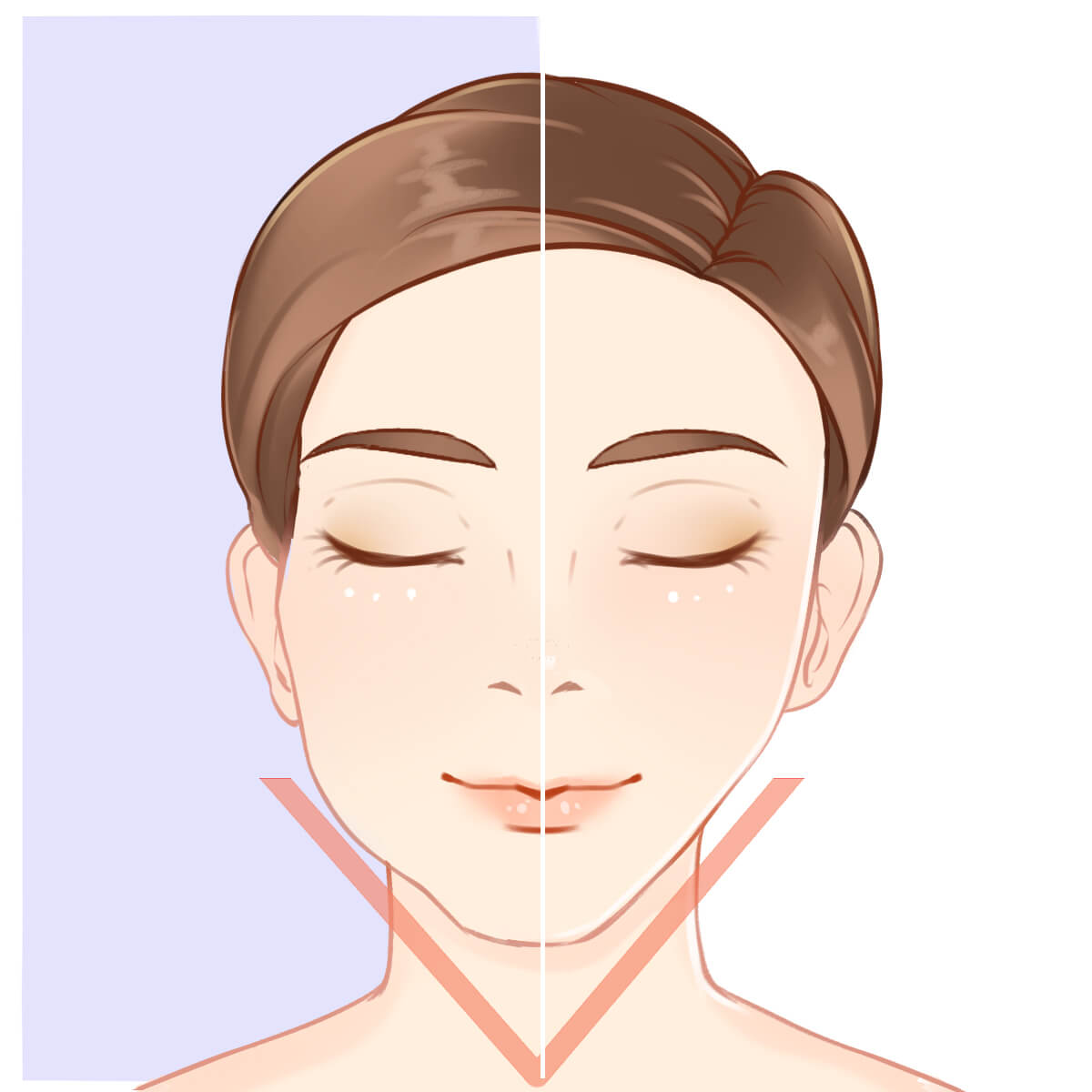 How much do you know about face reshaping then? The more we know, the less susceptible we are to the risk of the unknown.
So together with Beverly Wilshire Medical Centre, I have compiled your questions and got highly qualified doctors to answer them for you - how to get a V-shaped face?
You asked, we have the answers.
All information and answers are provided by certified and verified doctors from Beverly Wilshire Medical Centre.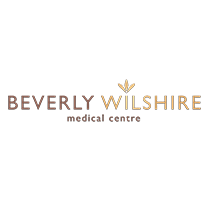 Beverly Wilshire Medical Centre (Kuala Lumpur)
WE ARE AN INTEGRATED BEAUTY MEDICAL CENTRE THAT SETS THE STANDARDS IN COSMETIC SURGERY, AESTHETIC MEDICINE (NON-SURGICAL AND LASER TREATMENTS) AND HEALTHY AGING IN THE REGION.
Licensed by the Ministry of Health Malaysia, we offer an extensive menu of cosmetic procedures, aesthetic treatments, and health services to enable you to attain your desired perfection – in beauty, health, and wellness. With the expertise of a team of highly skilled specialists, supported by the industry's leading technologies and world-class facilities, you can be assured of professional guidance and customized treatments towards the desired outcome. Whether you seek the ideal skin, face, body or wellbeing, you need look no further.
Centre of Excellence for Cosmetic Surgery, Aesthetic Medicine and Healthy Aging
Backed by registered and board-certified plastic surgeons
All cosmetic and aesthetic procedures are administered professionally by licensed doctors
Registered with the Malaysian Healthcare Travel Council (MHTC) to promote medical tourism
+ Read More
How to get a V-shaped face?
The safest and most straightforward way to achieve a face shape that is desirable to a person's wishes is through a surgical procedure, called face reshaping, or as it's commonly known today, a V-shaped face reshaping procedure.
However, we always believe that every single person has his or her unique facial profile and character, and treatments or procedures should always be tailored for an individual.
Normally during a consultation with your aesthetic or cosmetic surgeon, after asking the general questions, we have to ask about the patient's general health.
Do you have any other medical illnesses?
What are these illnesses and what medications are you on?
Have you had any previous surgery, whether cosmetic or non-cosmetic?
The main purpose for these questions to be answered is to assess if the patient is in the best condition for a surgery. Because in any case, your safety and wellbeing is always top priority.
Then, of course, we take a look at you, we have to assess your face.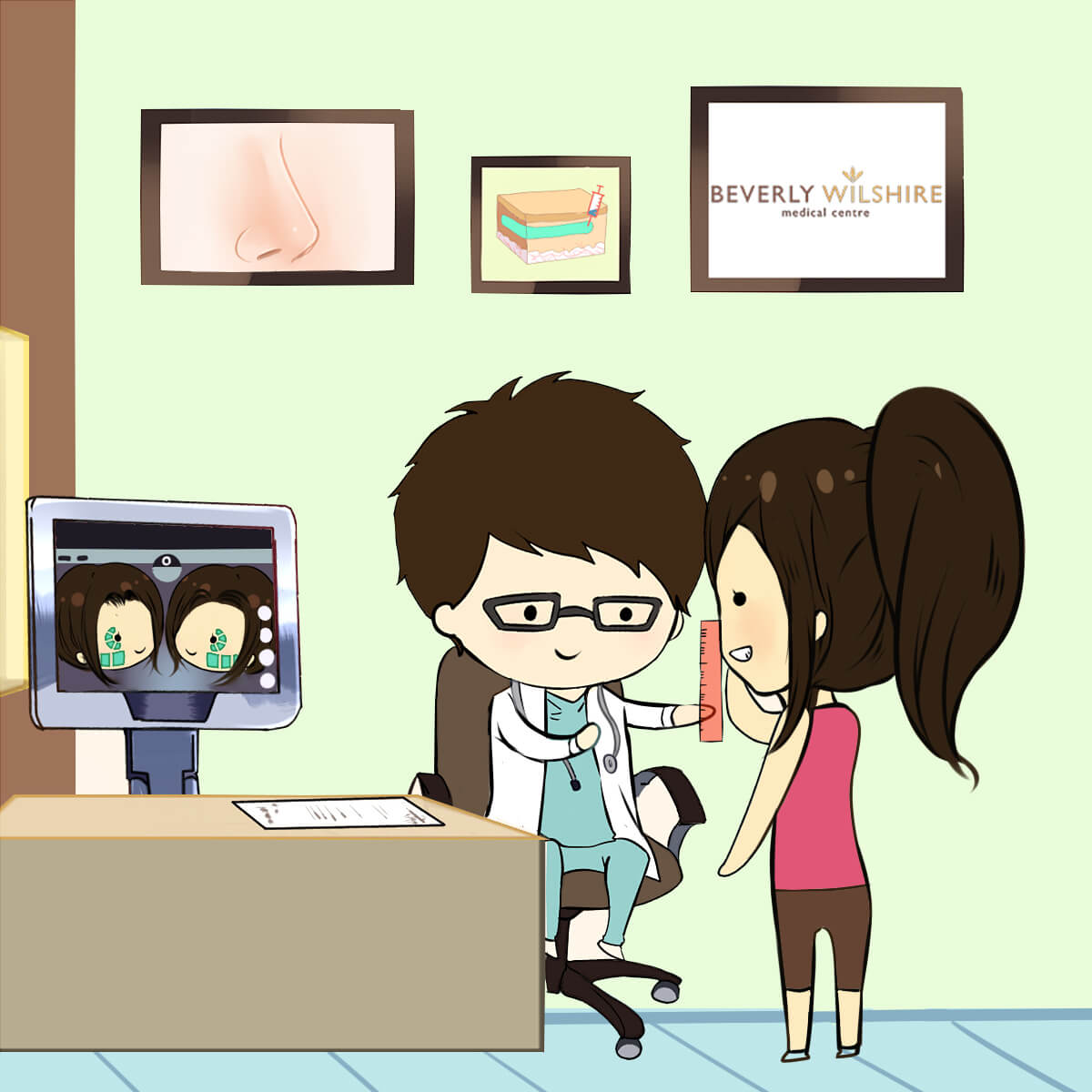 One thing we seldom think of, is that our face and neck come in one unit. If there are any changes on the face, we will also see them on the neck.
It's not recommended to do only a neck lift, or to do only a face lift in an effort to reshaped the face, because more often than not, we do both for the best results.
During your facial assessment, a skilled and experienced cosmetic surgeon will go through every detail of your features, and discuss with you the best solutions for the best possible outcome.
For instance, if you have loose skin on your forehead, apart from a face and neck lift, a forehead lift and a brow lift would help tremendously in the final result.
Or if you have droopy eyelids, once we do a face and neck lift, your droopy eyelids would be more apparent, and in this case, you may want to consider an eyelid surgery, too.
All in all, this preliminary discussion with your cosmetic surgeon is almost as important as the surgical procedure itself, to manage expectations and make sure that both you and your cosmetic surgeon are on the same page.
What happens before a facelift/face reshaping procedure?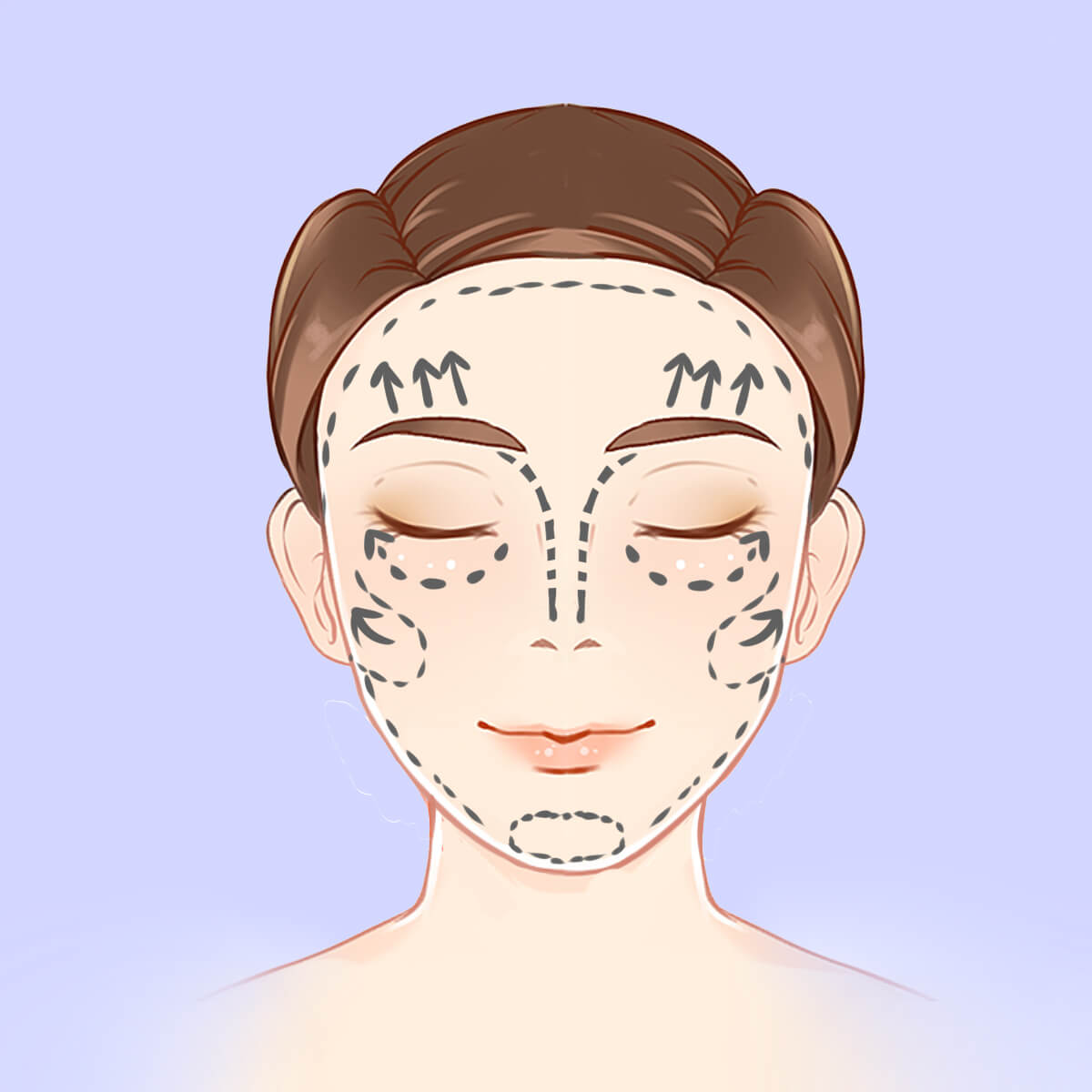 First things first, the nurses will prepare you for the surgery. Then the cosmetic surgeon will start with the marking on your face on the positions of the incisions to be made, the angle at which the facelift would be one, and the line at which to pull the skin of the face.
This is a very crucial step because subsequent procedures would all be done based on this guideline.
What happens during a facelift/face reshaping procedure?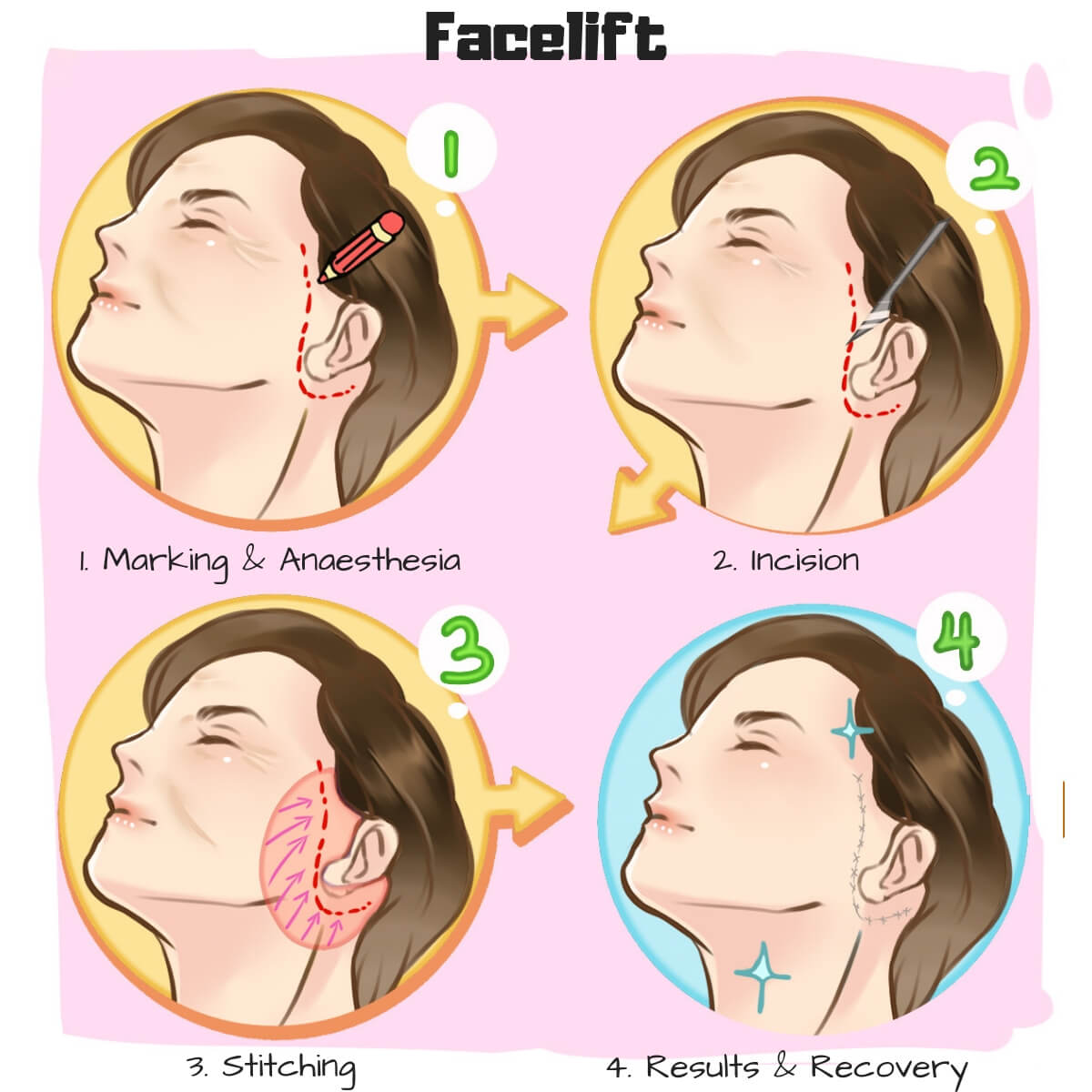 Step 1: Anaesthesia
Face reshaping is a long procedure, usually about 4 hours give or take. So general anaesthesia is the preferred choice because patients can't stay still for 4 hours under local anaesthesia.
During this phase also, a variety of other procedures can be done to further enhance the outcome of the facelift or face reshaping procedure. These include:
Facial implants
Soft tissue augmentation to recontour your facial structure
Resurfacing techniques to improve the tone and texture of your facial skin
Wrinkle reduction via injections
Step 2: The Incision
Depending on the degree of change you'd like to see, your facelift choices include a traditional facelift, limited incision facelift, or a neck lift (this should be decided in the discussion phase pre-surgery!)
A facelift incision often begins at the hairline at the temples of your head, and continues around your ears and ends in the lower scalp section.
Fats may be sculpted or redistributed around your face, jowls and neck, and underlying tissues can also be repositioned. The deeper layers of your facial skin and muscles are also lifted.
Your skin is then re-draped over the uplifted contours and excess skin is trimmed away. A second incision under the chin may be necessary to further improve an aging neck.
Step 3: Closing the incisions
Sutures or skin adhesives are used to close the incisions.
Once these incisions are healed, the incision lines from the facelift procedure are well concealed within the hairline and in the natural contours of the face and ear, so no visible marks on your face!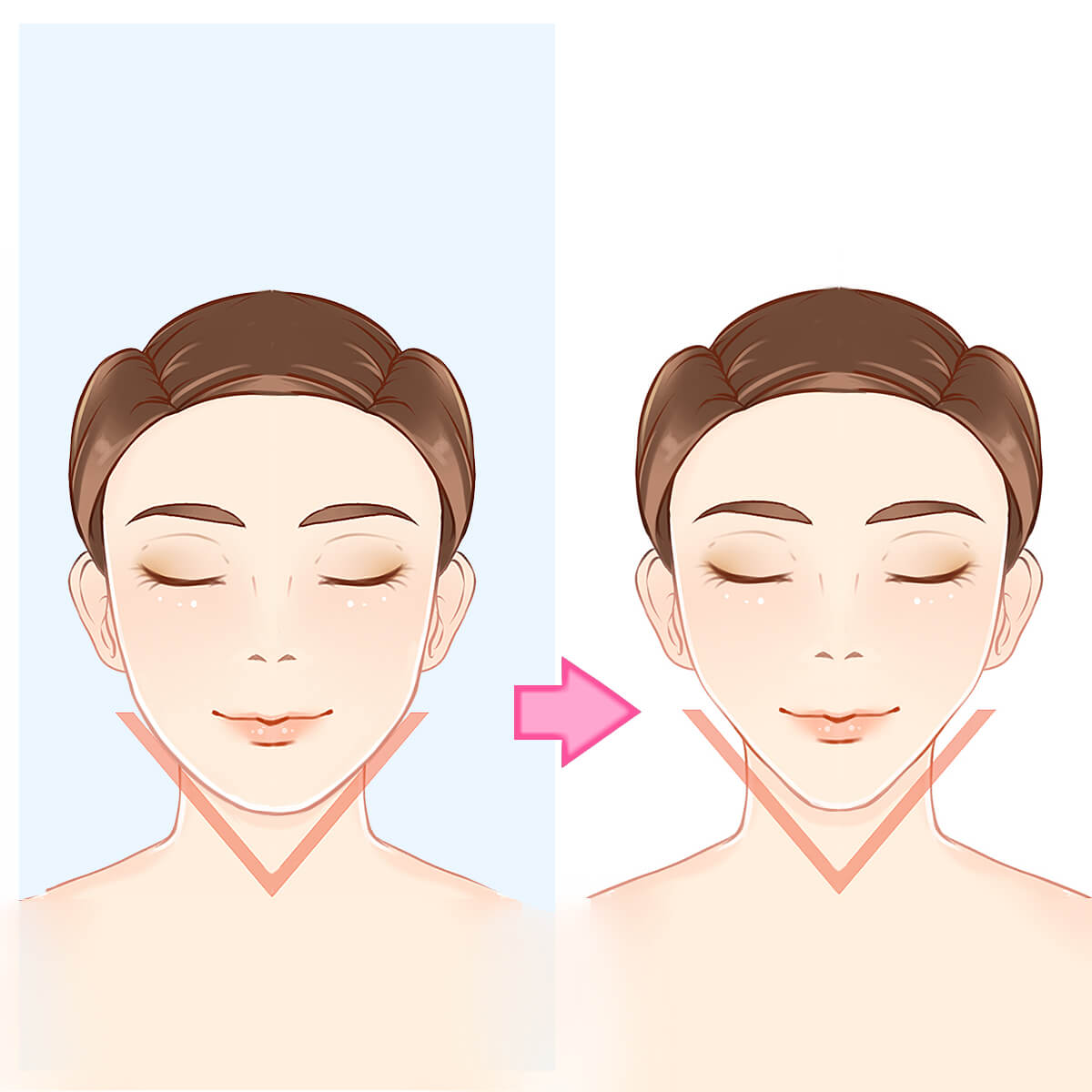 Step 4: See the results
The visible improvements of a facelift or face reshaping procedure will appear as the swelling and bruising subside.
Your final result should not only restore a more youthful and rested appearance, but also help you feel more confident about yourself!
What happens after a facelift/face reshaping procedure?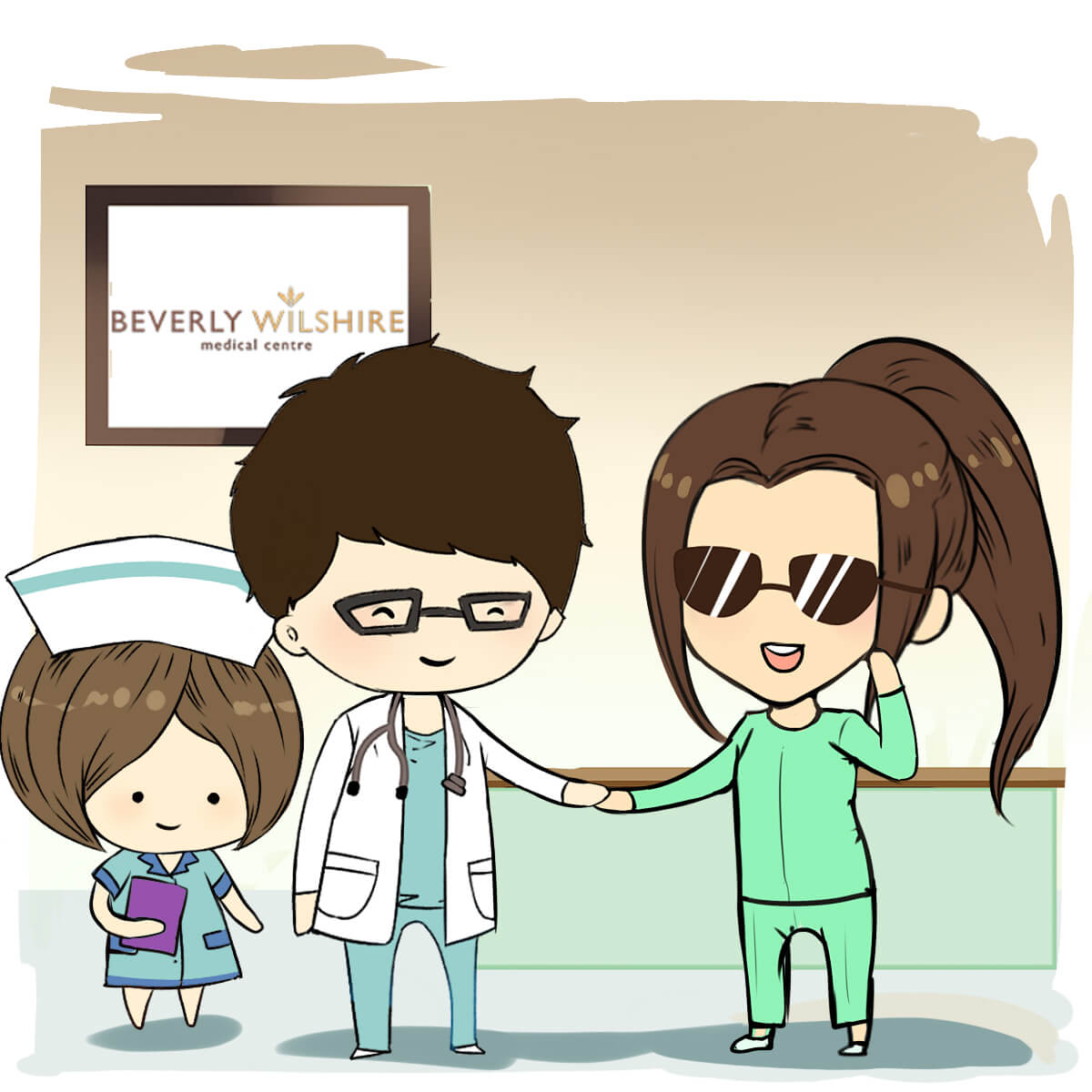 On the first day after your surgery, you will have a small bandage on the surgical area.
From the second day onwards, you can start to have a shower and wet the wound.
If you are concerned about how you look during this transitional period, you can keep your hair down and wear dark sunglasses.
It is best to stay 1 or 2 days in the clinical ward, and even after going home, regular checkups are recommended until the swelling comes down.
Generally, facelift or face reshaping is not a painful procedure, though you might just experience some slight discomfort due to the swelling.
Is a facelift/face reshaping procedure risky?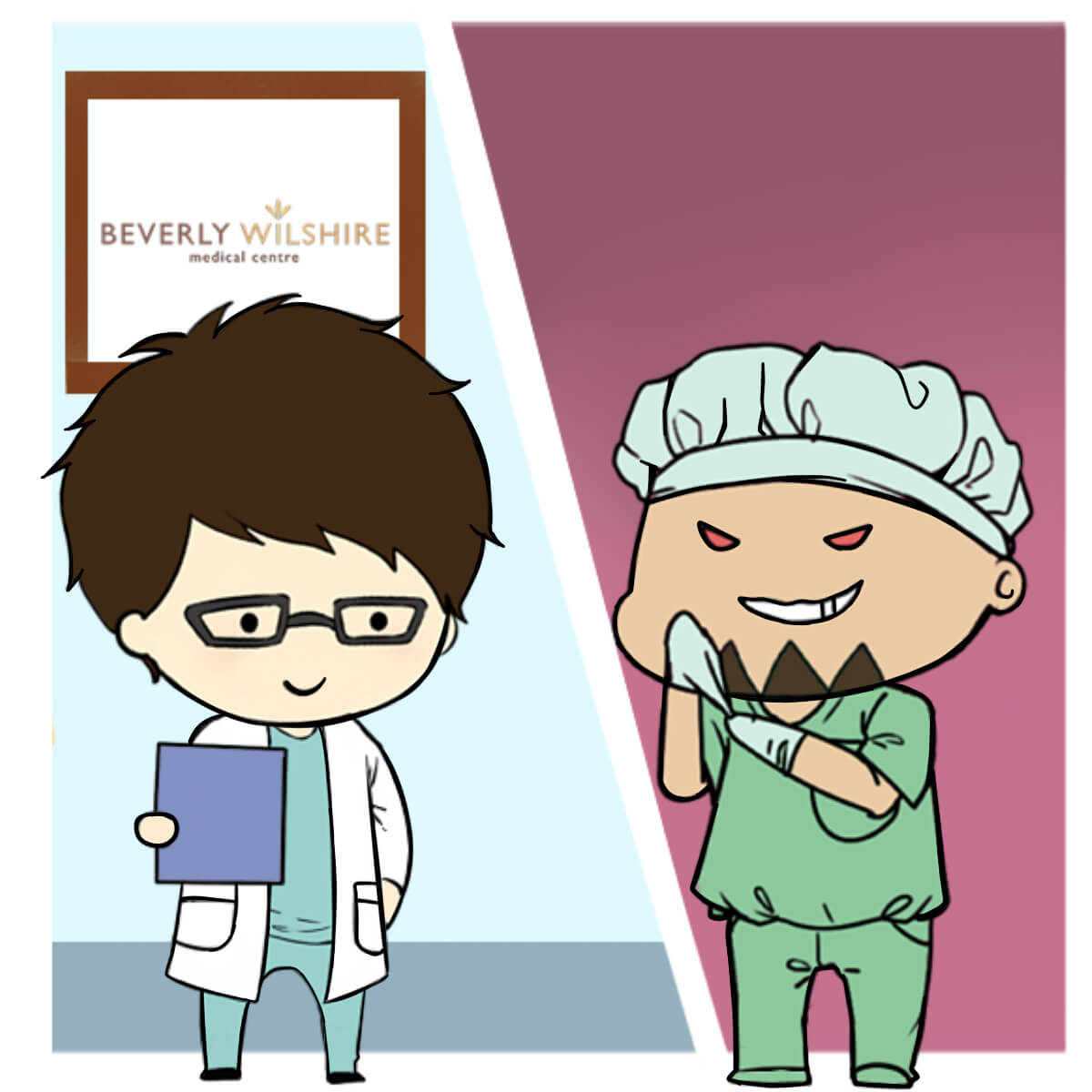 Facelift is a very common procedure. There may be complications like nerve injuries, vasal injuries or infections, but these are very rare.
Swelling after the procedure is not a complication. It is normal to have swelling after any surgical procedures.
If the swelling is excessive, it may mean that there is bleeding or a blood clot. If it is too large, we will have to drain it. Again, this is possible, but not common.
After the surgery, the swelling will last up to 2 weeks (especially if you do eyelid surgeries as well, because the thinner eyelid skin tend to have more bruising and swelling.
Does facelift/face reshaping leave a scar?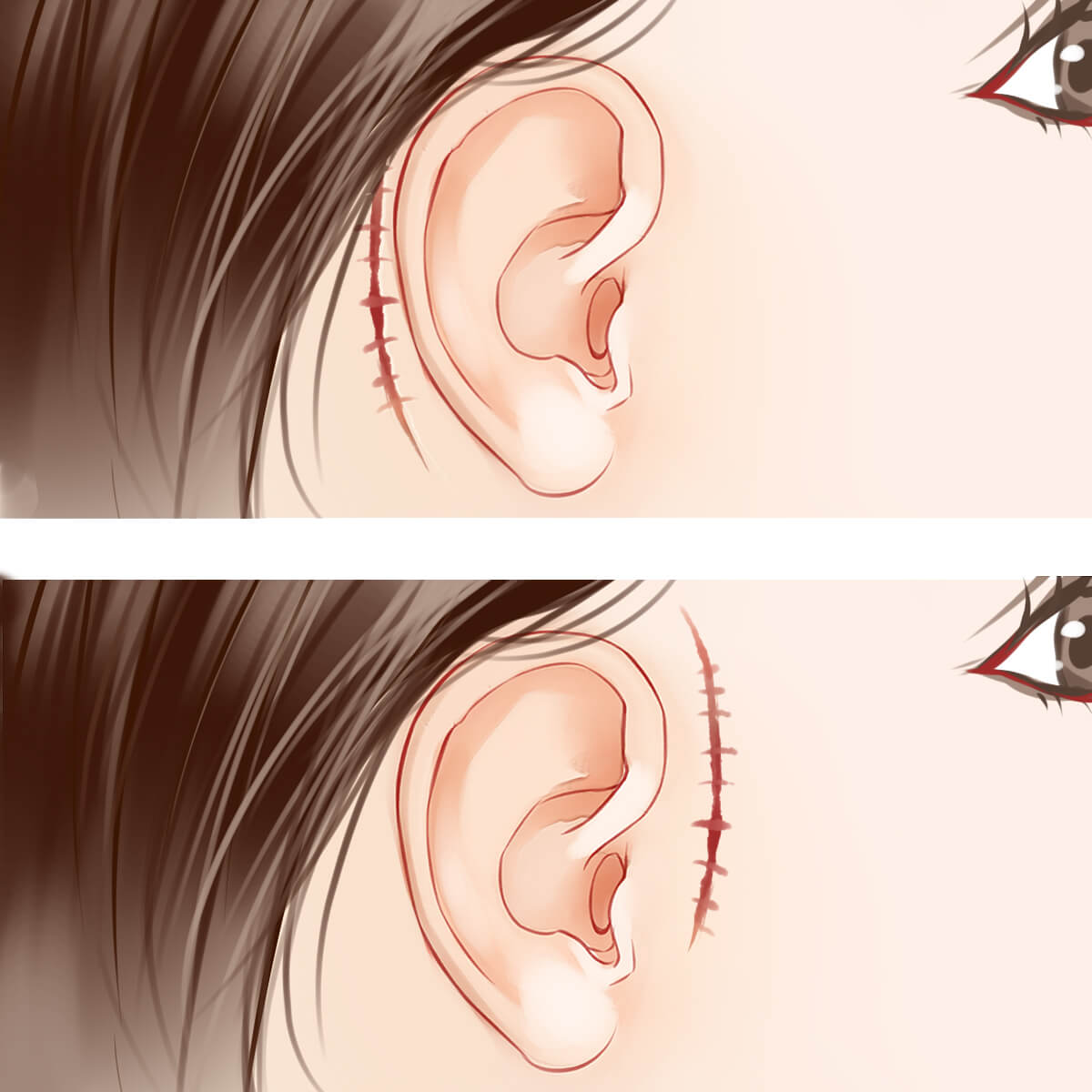 This scar that we are concerned about is the line of incision in a facelift. As cosmetic surgeons, we will try to conceal the scarring the best we can.
For the scarring on the forehead, we do the incisions near the scalp so that it is less visible.
For incisions on the side of the face, we do it behind the ear.
And in any cases, we try to make the incisions following the skin folds, so that they remain hidden.
Whether you get a thick scar or a thin scar, depends on your skin characteristics. If you have a history of keloid scar (like the swollen scar from your BCG vaccine injection), you may have a thicker scar.
Your doctor will monitor your scars closely, and after the surgery, we may suggest you to get a steroid injection or a laser treatment to prevent the scar from turning thick.
A cosmetic surgeon also needs time during the surgery in order to minimize the scarring outcome. The more time spent on the procedure, the better the results.
An inexperienced surgeon may try to pull your skin as much as possible, or do things in a rush, leading to not only scars, but also an unnatural result.
A skilled and experienced surgeon would not only make sure of your safety, but also help you achieve a more natural, younger look.
Is my V-shaped face permanent?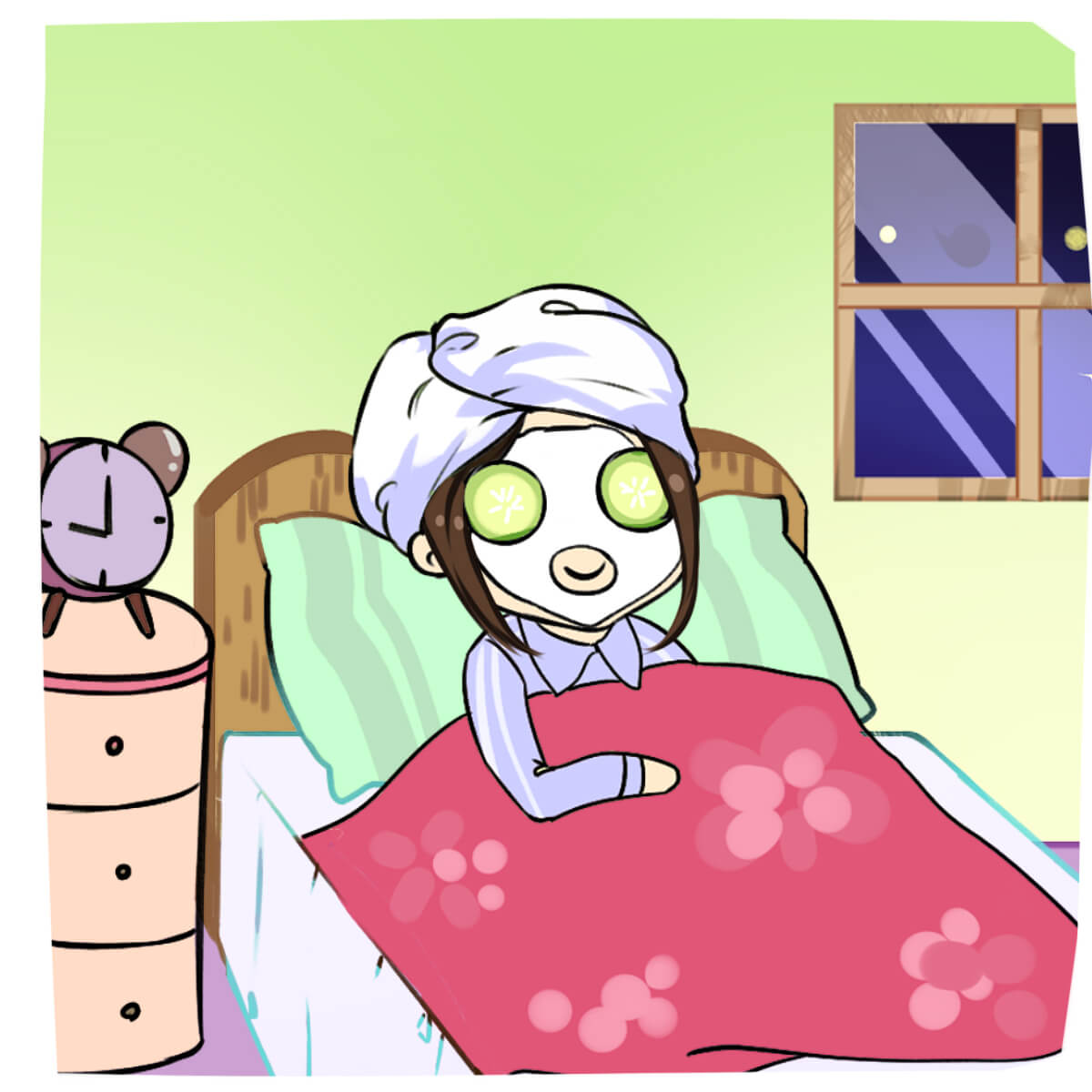 As a restorative surgery, a facelift does not change your fundamental appearance and cannot stop the aging process.
Life-long sun protection will help to maintain your rejuvenated appearance by minimizing photo-aging (aging caused by sun damage).
In addition, a healthy lifestyle will also help to extend the results of your rejuvenated, more youthful appearance.
Taking good care of your health can also slow down the aging process. Follow healthy facial procedures. Eat plenty of anti-oxidants. Go for minimally invasive procedures to slow down the aging process.
Once these methods stop working, it is then time for your to consider a cosmetic surgery to remain a youthful appearance.
Am I suitable to get a V-shaped face?
There are indeed some restrictions for a face reshaping procedure, such as poorly controlled diabetic patients, high blood pressure patients, or patients who have just recently suffered from a stroke.
Otherwise, you are all set for a cosmetic surgical procedure to get the face shape that you desire.
However, I have in important message for anyone who wishes to look like someone else or some celebrities.
Unfortunately, we can't make you look like someone else.
But what we are able to do, is to make you look like yourselves but younger and more refreshed.
Can a V-shaped face be "overdone"?
It is possible that under unskilled or inexperienced hands, the results from a face reshaping procedure can be underwhelming or even different from expectations.
This is why it is so important to:
Always consult an experienced, verified, and certified cosmetic surgeon
Make sure all expectations and concerns are addressed in the discussion phase before the procedure. Leave no stones unturned.
If you wish to talk to an experienced cosmetic surgeon about your aesthetic needs , you can send an enquiry to Beverly Wilshire Medical Centre here, and they'll reply you within 3 working days!
It can be difficult to correct the mistakes on your face done by other cosmetic surgeons, so before you undergo a surgery, make sure you make a learned decision.
Always avoid dodgy or too-good-to-be-true advertisements by unqualified beauty centres or unverified clinics. Any mishandling of procedures will only complicate the situation.
Can I get a V-shaped face without surgery?
While the results may differ from a facelift or face reshaping surgical procedure, it's not impossible to achieve a more defined face shape without going through surgery.
Stay tuned as we look into non-surgical options for V-shaped face in the next issue!
If you wish to talk to an experienced cosmetic surgeon about your aesthetic needs , you can send an enquiry to Beverly Wilshire Medical Centre here, and they'll reply you within 3 working days!